Another week passed like water and after a week's break we are back with a new part of the regular series What Xiaomi is working on. In addition, he introduced 20 "new" products, he also came with others that we haven't been able to introduce to you yet.
On the Chinese e-commerce platform YouPin, new products are being added like mushrooms after the rain. These are another 5 new interesting products that you probably haven't heard of yet.
Celestron telescope also for smartphones
A complete novelty is the telescope for observing stars. Specifically, it is manufactured by Celestron, a relatively well-known brand in the field of star equipment. Celestron SCTW-80 however, the telescope is not an ordinary telescope. Is coming with mount and lens also for smartphones, so you can create amazing photos of stars right with your smartphone.
The Celestron SCTW-80 telescope is equipped aspherical eyepieces with dimensions of 23 mm (21,7x) and 10 mm (50x), both models have 60-degree field of view. The lens of the telescope is high quality glass lens with a full-surface multilayer coating that effectively improves the optical performance of the lens. The reproduction of the image is really sharp.
The telescope can be used not only to observe the stars, but also nature, mountains or animals. Stabilization is provided by a stainless steel tripod. Protective accessories are available to prevent damage to the eyepieces and lens. The package is also portable backpack with cotton lining for better binocular protection.
The novelty is already available to the people of China for 599 yuan, which is very available in terms of 79 € / 2050 CZK. We are not yet able to confirm whether this product will also be offered by international retailers, as the transport of fragile lenses must be very demanding.
New competition with Xiaomi Planet!
Win the bloated Xiaomi AirDots Pro. Get involved too.
Mijia smart digital clock
Xiaomi has several smart clocks or thermometers in its portfolio. But the manufacturer does not stop and represents Mijia smart digital clockwhich display in addition to the time temperature and humidity. The data is offered to the user in a friendly way E-ink display. The device is powered by two CR2032 batteries.
As it is a smart device, it is equipped with Bluetooth connectivity, through which it connects to the smartphone. Mijia smart digital clock can communicate with other smart devices from the Mi Home platform. After connecting to the air conditioner, they can send a command to the refrigeration unit to turn on when the room temperature exceeds 25 ° C. It can send similar commands to the heater or humidifier.
It is also interesting that the clock also shows a kind of smiley face. This has two forms - sad expresses uncomfortable data of temperature and humidity, cheerful the opposite. You will always know that either the temperature or the humidity needs to be improved. Highly accurate takes care of measuring these two quantities swiss sensirion chip. The price was set at 79 yuan on the Chinese market, which is converted only 10 € / 270 CZK.
More interesting Xiaomi news in your inbox 👇
Chanitex smart water purifier
Another of this week's novelties from the YouPin e-commerce platform is a smart water purifier manufactured by Chanitex. One of the most important features of this water purifier is ultra durable filter, which the manufacturer claims to be the user does not need to change for up to three years.
Chanitex smart water purifier is a product of a global research and development base AO Smith Corporation. The company has been engaged in professional water purification for 17 years. The product was developed in multifunctional laboratory for water treatment that is constructed in accordance with NSFCNAS accreditation standards.
Contains 18 laboratory modules for accurate instrumental analysis that can detect heavy metals, antibiotics, microorganisms and by-products of disinfection. The company currently has more than 140 patented technologies. So there is no doubt that the Chanitex smart water purifier is really a first-class product in its category.
In terms of specifications, the purifier is equipped high-performance filtration system reverse osmosis with a permeability of 2100 liters. The water flow is up to 1,6 liters per minute, which is one glass of pure water in 7,5 seconds. Compared to traditional water purifiers, its output is 60% higher.
cleaner does not contain a water tank, which means that it filters the water immediately as soon as you turn the tap. The manufacturer has thus significantly reduced the filtration time. The purifier designed in this way also effectively eliminates the risk of secondary contamination that can arise from the water tank.
Chanitex smart water purifier contains a patented RO (Reverse Osmosis) membrane with a long-lasting effect. The service life of the filters is up to 3 years or 5500 liters of filtered water. The five-stage filtration system can effectively remove rust, coating, heavy metals, residual chlorine or impurities from the normal water supply. It also removes odors and improves taste.
Should there be a power failure, patented technology intelligent self-flushing automatically rinses the water caught in the middle of the cleaning. As it is a smart product, there is no possibility of connecting to a smartphone and an application, where, for example, the status of filters is displayed. The price in China is 2499 yuan, which is in conversion 330 € / 8500 CZK. The price also includes assembly, so you also live in China.
Hand steam iron
Now something for travelers. A great new gadget from Xiaomi is a portable hand steam iron, which will be welcomed especially by regular travelers. Thanks to the compact dimensions of 170 x 92,5 x 204 mm, it can also fit in a smaller suitcase.
The hand steam iron uses intelligent steam heating technology SteamPlus for immediate release of steam without damaging clothing. Her performance is decent 1200 W, thanks to which the heating lasts less than 35 seconds.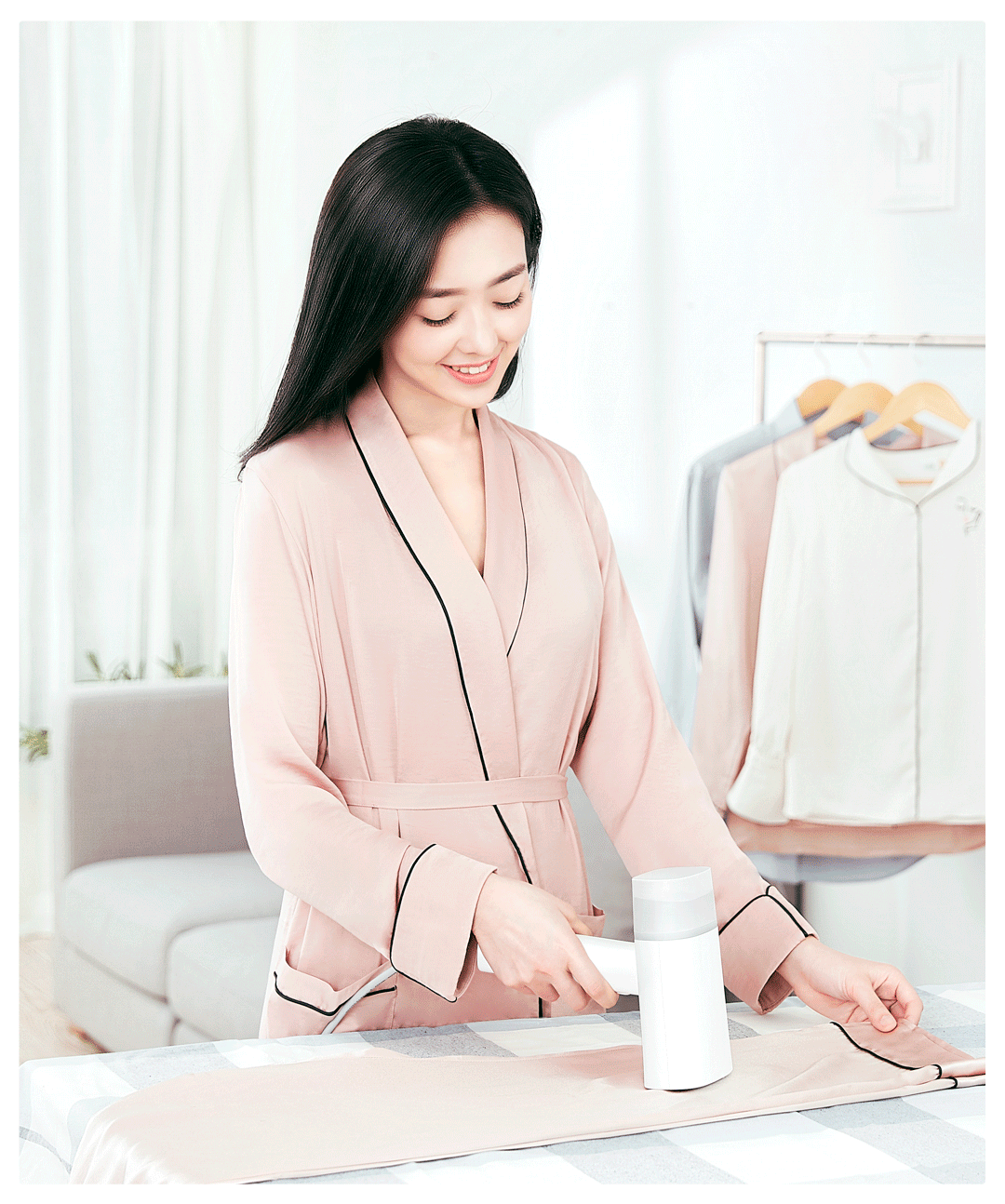 The steam iron produces 22 grams of steam per minute, which is a very decent performance. The water tank lasts for steam generation for a while 7-8 minutes. Steam ironing takes place at a temperature of up to 132 degrees to effectively penetrate the garment. The price in China's home was set at 99 yuan, which is just 13 € / 340 CZK.
Mijia blue light suppressed glasses
As part of 20 new products, we also had a performance Mijia glasses with by suppressing harmful blue light. They are designed for adults, weigh only 16 grams and cost 149 yuan in China 19 € / 500 CZK.
Mijia the glasses contain glasses that eliminate 50% of blue light. They are also covered double-sided anti-oil filmwhich solves the problem of frequent glass cleaning. Thanks to the TR90 frame, the total weight is only 16 grams, which brings comfortable wearing without any pressure.