Do you have an ordinary rearview mirror in your car? How about upgrading your dad with such a piece of technology? 70mai Rearview Dash Cam Wide it has a full HD image, a large 9,35 ″ display, a backup camera, emergency recording and WiFi.
About one smart rear view mirror from the 70mai brand, which belongs to the Xiaomi ecosystem, you may have heard. However, this is an even better model.
Coupon prices in the EU warehouse
70mai brings to the European market an interesting product called 70mai Rearview Dash Cam Wide. The mirror is available in the official Aliexpress store of the 70mai brand, while the manufacturer now also offers express delivery from a Polish warehouse.
For this product, they are until 22.9. 9:00 a.m. 3 discounts available at once:
First use the Store Coupon: SEPTEMBER16, which will give you a discount of €4
Then enter the Aliexpress coupon: 980, which will give you a discount of €7,08
An automatic Spend & Save discount of €10 is applied to your cart
70mai Rearview Dash Cam Wide
Large display and modern design
The 70mai Rearview Dash Cam Wide is especially interesting for its big 9,35" IPS display that displays a real-time image from the front or backup camera. So you can also use it as reversing display.
The display is really huge and spreads over almost the entire surface of the mirror, creating "Frameless" feeling. This makes the mirror simply look unreal.
The display also shows the time and date or the recording indicator. Without displaying the content, of course, it serves as full mirror. The display itself is always active for only a few seconds, it goes out automatically when not in use. Activates when the user wakes up.
The mirror has dimensions 285 x 90 x 72 mm and is much larger than classic car mirrors. Thanks to that, it offers you a much wider angle of view, you literally see much more in this mirror. It is powered via a classic 12 V car adapter, which is included in the package.
Full HD image and backup camera
The main camera is located on the back of the device that has Full HD resolution, 130° angle of view, aperture f / 2.0 and produces video at 30 fps. This is a sensor Sony IMX335.
With such a resolution, you will see clearly and distinctly all brands or even license plates.
There is a choice of two cameras at Aliexpresse. HD camera has 120 ° FOV, aperture f / 1.8 and 25 fps. expensive night camera it again has full HD resolution, 135 ° FOV, f / 2.2 aperture and of course a much better image, especially at night.
In addition, the rear camera acts as a very effective reversing assistant, which automatically activates when reverse gear is engaged and displays the image in the rearview mirror.
This is how the rear camera shoots during the day and night: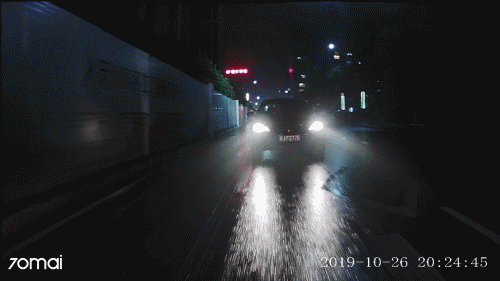 WiFi and smartphone control
The mirror is intelligent especially thanks to the connection to the smartphone via WiFi. Then you can manage the recorded video and content on the microSD card in more detail.
Micro SD card, emergency recording
A micro SD card with max. capacity up to 64 GB. Smaller files are handled by the H.264 codec. The HiSilicon Hi3556 processor works inside.
thanks gravity sensor the camera also has an emergency recording function. If the car hits, the 70mai camera recognizes it and starts shooting immediately. This feature is also useful in the parking lot, if someone stumbles into your car and runs away, you can identify it thanks to the record.
It also contains a backup battery in case of power failure. It has a capacity of 470 mAh, so you should not lose important minutes of video.
We also send e-mails about great Xiaomi products and discounts. 👇