Xiaomi is known for its rich ecosystem of products as well as brands. One of their subsidiaries is 70Mai, which specializes in the production of car accessories. Their products are, for example, car cameras, which are very popular.
He is now joining them 70Mai wireless car charger (70Mai Wireless Car Charger).
Also on sale at a discount
The still relatively hot news is on sale at the Banggood dealer. Of course, there is a great discount coupon that will create a fantastic price thanks to 24% discount.
We recommend clicking on the option when choosing transport Air Parcel Register. As these are goods up to € 22, no customs duties or taxes apply to them.
10W Qi standard
The 70Mai wireless car charger comes in a black version. The construction is designed to be attached to the fan grille, while the holder is compatible with different types of grilles. They are then in the package two types of holders - one in tripod style, the other with a clamp. Of course, there is a swivel joint, thanks to which you can adjust the angle of inclination of the smartphone according to your ideas.
The cradle for the smartphone itself has three size levels. It is compatible with smartphones iPhone 8, Xs, XR, Xs Max, Samsung Galaxy S8, Note 8, Xiaomi Mi 9, MIX 2S or Mi MIX 3. The holder can basically hold any smartphone with a width not exceeding 79 mm.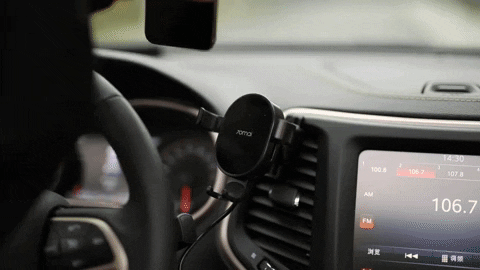 Qi wireless charging recharges smartphone at a power of 10W. Power is supplied to the charger via microUSB connector on the bottom side.